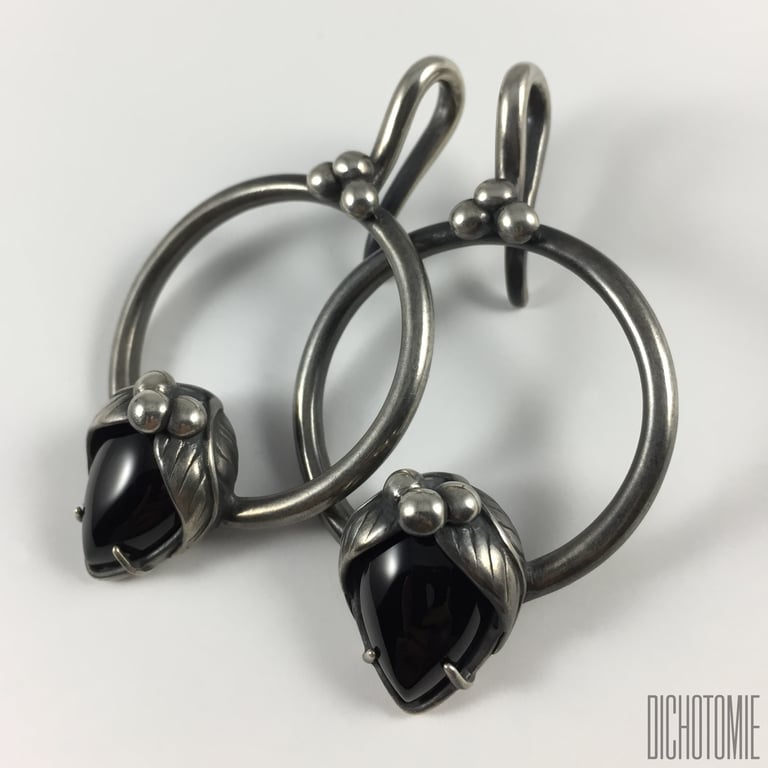 La Belladonna Ear Weights Black Onyx
** THIS STYLE IS DESIGNED FOR STRETCHED EARS - YOU MUST BE AT LEAST A 10 GAUGE TO WEAR **
Wear La Belladonna Ear Weights as protection against negative or poisonous energies by harnessing the qualities of the deadly nightshade plant. Each ear weight features a trio of nightshade berries and double leaves that gracefully hug a Black Onyx cabochon. Ear Weight set is cast in solid sterling silver with a 10 gauge ear loop.
Atropa belladonna is a Eurasian perennial with reddish, bell-shaped flowers that bear glossy, black berries. Other names for the plant include belladonna, deadly nightshade, and devil's herb. The plant earns its sinister nicknames, as its foliage and berries are extremely toxic, containing potent dosages of tropane alkaloids. Its most common name, belladonna, derives from Italian, meaning "beautiful woman." Historically, women have used the herb's oil to dilate and enlarge the pupils for a seductive effect, however, it is best known as the plant of choice for assassins through out history.
Black Onyx is a powerful stone of protection as it absorbs and transforms negative energy, and helps to prevent the drain of personal energy. Onyx provides strength in difficult or confusing circumstances and during times of enormous mental or physical stress, confusion or grief. It aids in centering your energy and aligning it with a higher power, all while accessing higher guidance. Onyx is said to hold the memories of things that have happened to the wearer. This property of holding physical memories makes Onyx useful in past-life work for healing old injuries and physical trauma that are affecting the present life.
Dimensions - 1 9/16" x 2 5/8" x 7/8" | 40mm x 67mm x 22mm (for one piece of set)
Weight - 21 grams (for one piece of set)