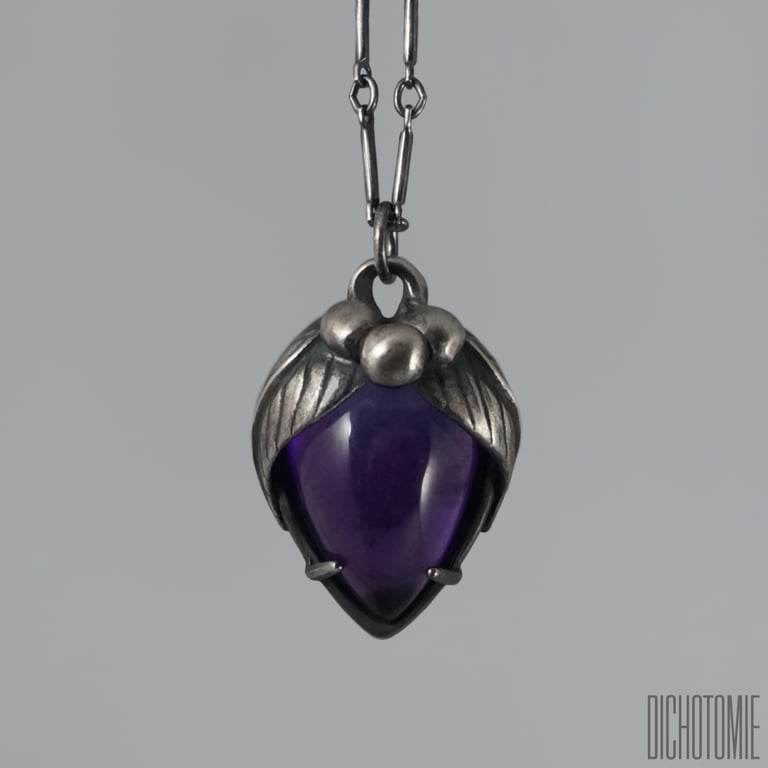 La Belladonna Pendant Amethyst
Wear La Belladonna Pendant as an amulet of protection. Harness the imagery of the deadly nightshade plant to neutralize any negative, or poisonous energies. Nightshade berries and leaves gracefully hug an Amethyst cabochon. Each piece is cast in sterling silver and is debossed with the Dichotomie monogram for authenticity. Hangs from an 18" sterling silver bar & link chain.
Atropa belladonna is a Eurasian perennial with reddish, bell-shaped flowers that bear glossy, black berries. Other names for the plant include belladonna, deadly nightshade, and devil's herb. The plant earns its sinister nicknames, as its foliage and berries are extremely toxic, containing potent dosages of tropane alkaloids. Its most common name, belladonna, derives from Italian, meaning "beautiful woman." Historically, women have used the herb's oil to dilate and enlarge the pupils for a seductive effect, however, it is best known as the plant of choice for assassins through out history.
Amethyst is a stone which works in the emotional, spiritual, and physical planes to provide balance, patience, emotional stability, and inner strength. It is a strong aid for those seeking spiritual guidance, protection, or wisdom. Amethyst energy properties raise a lower vibration to a higher one, and can enhance intuition and psychic abilities of all kinds. Through it's calming nature, it can reduce negative influences while filling the user with positive emotions instead. Amethyst is associated with the third eye and crown chakras.
This jewelry piece uses a natural stone that has been prospected, cut, and polished by hand. Please expect your stone to be unique and have organic qualities. This includes uneven coloration, minor surface pocking, striations, and/or inclusions. These characteristics are naturally occurring and are still considered quality grade for jewelry. Only stones that meet Dichotomie's standards will be used for your jewelry piece.
Dimensions - 1" x 3/4" x 1/2" | 25mm x 18mm x 13mm
Weight - 8 grams